Posted on 05/07/2009 09:52 by t*i*dd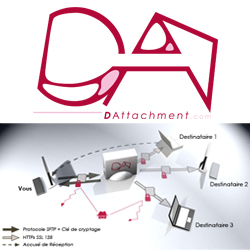 DAttachment – the secure files transfer

DAttachment est un logiciel qui permet de tranferer des fichiers de manière sécurisée. Il permet aussi de stocker en ligne grace à son mode Gestion.
Merci à Flo et à toute l'équipe de DAttachment.
DAttachment is a software which helps to transer some files in a secured way. You can also manage your own files.
Thanks to Flo and the DAttachment company.
Macabi – skirt for men
Macabi est une jupe de marche en nylon très légère et résistante, et convertible. Elle va m'accompagner durant l'ensemble de mon voyage.
Merci à Carol et à toute l'équipe de Macabi
The Macabi for Men is a light and soft nylon made skirt for men. It's gonna be one of my main clothe during my trip.
Thanks to Carol and the Macabi company.